Prevent Costly Damage with Annual Roof Health Inspections
Don't Wait For Your Roof To Leak To Get Your Attention
Your roof could be leaking right now, causing thousands of dollars of damage and major headaches, and you don't even know it. In fact, many roof problems are only discovered after they've reached an advanced stage – after leakage or other serious damage has already occurred.
Roofs Can Leak For Years Before You See Any Evidence
Many homeowners do not pay attention to their roof until there's water leaking into the house, or they notice stains on the ceiling, walls or other obvious signs. However, if damage occurs or if there is a workmanship issue with how your roof was installed, unless it is large enough to be apparent in the first 2 or 3 rains it may not become evident until thirteen years later. That's why we think anything less then a 13 year workmanship warranty is a short term warranty. By the time they are large enough to be visible, there could be major damage to the roof sheathing, damaged insulation and drywall and even mold and mildew – creating the need for expensive roof repairs or even complete roof replacement.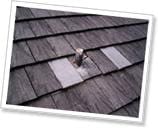 Have Your Roof Inspected Regularly
To add years of life to your roof, the National Roofing Contractors Association (NRCA) recommends two roof inspections each year to avoid premature roof failure. Studies reveal that small leaks are the worst kind of leaks because when undetected they eat away at your home destroying everything in their path, similar to an undetected cancer.
All-inclusive inspections become even more important in slow economic time to ensure you receive the maximum service life from your roof and avoid premature roof replacement. The only people that can afford to ignore their roof are those that can afford to buy a new one.
You can do a preliminary inspection yourself, looking for shingles that are curling, blistering or missing; loose material or wear around chimneys, pipes and other penetrations; and broken or missing tile. To maximize your protection it is better to get a professional to inspect your roof – someone skilled in walking on roofs without causing further damage, who knows what they're looking for and is experienced in finding those small leaks.
"Your roof could be leaking right now, and you don't even know it… roofs can leak for up to 13 years before you see evidence on the inside of the house."
A Small Price To Pay For The "Assurance" And Peace Of Mind
The cost of a roof inspection by a professional is insignificant compared to the cost of repairing or replacing a roof; this makes regular roof inspections a wise investment. Wouldn't you prefer to find potential leaks and related damage before they become real problems? And before they lead to major repair bills? It's really no different than going to a doctor for a checkup even when you're not feeling sick.
A small investment to have a roof professional inspected can save you thousands of dollars in the future by preventing premature roof failure. In addition you will enjoy peace of mind knowing you have been proactive in keeping your home safe from the weather conditions.
Don't confuse a roof inspection with a free estimate given by roofers whose primary focus is on roof replacements.