9 Warning Signs of Roof Leaks
Your roof may be telling you something. There are various reasons why roofs leak. Here are 9 warning signs that present reasons for concern during the life of a roof.
There are also many less obvious items which allow water intrusion which are frequently missed. Small roof leaks cause rotten wood and even mold and mildew just like large leaks do. However, small roof leaks are frequently not discovered, by the untrained eye, until they are large enough to become obvious. By then complete roof replacement is frequently necessary.
The best way to be certain your roof is in tip-top shape is to have it regularly inspected by an experienced roofing professional.
CONCERNED ABOUT A POSSIBLE ROOF LEAK?
Occurs most often in warm, humid climates such as the southeast United States
Caused by growth of airborne fungi or algae deposited on roof
May not impact overall life of the shingle, but could indicate potential problems
Roof Leak Warning Sign #2: Buckling Shingles
May be caused by improperly applied felt
May be caused by movement in the deck of the roof
Roof Leak Warning Sign #3: Curling Shingles
May be caused by water absorption
May be caused by hot air in the attic
Does not effectively protect the roof from leaks
Roof Leak Warning Sign #4: Damaged Flashing
Caused by improper installation (on new roof)
Caused by drying and cracking (on old roof)
Can sometimes be repaired without replacing roof
Roof Leak Warning Sign #5: Granule Loss
Normally a certain number of granules will be loose, especially after application
On aging shingles, indicates need for replacement
Roof Leak Warning Sign #6: Lack Of Attic Ventilation
Results in trapped hot air in the attic
Forces air conditioner to work harder (and possibly break down)
Bakes the roof's shingles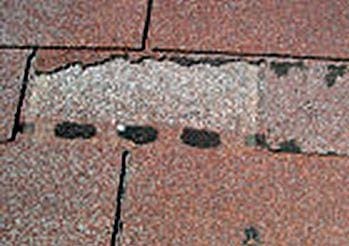 Roof Leak Warning Sign #7: Missing Shingles
Caused by storms and high wind speeds
Usually related to improper fastening of the shingles
Roof Leak Warning Sign #8: Roof Rot
Caused by absorption of of moisture in the mat
More common with organic-based shingles
Roof Leak Warning Sign #9: Ceiling or Roof Spots
When water gets through, you may see water stains in your ceiling
Leaks may appear around chimneys and vents
Leaks may even 'travel' down rafters and show up away from the original source
Call Sonshine Roofing now at 941-377-9933 to learn more about our Roof Care Club and schedule a roof inspection. Our "Roof Health Checkup" inspection will show you any flaws caused by unforeseen events, faulty workmanship, or defective materials, your roof may have. And if your roof has no problems we will gladly give you clean bill of roof health. A small investment for an inspection can save you thousands of dollars later and provide you peace of mind knowing you have been proactive to insure that your roof can protect and keep you, your love ones and possessions, safe and dry inside your home.
"We can't say enough about this wonderful company. They are professional, friendly, and very dependable. We own several rental properties and we are very happy with the work and price. We highly recommend them to anyone who is looking for a roofing company. We have been a customer for about 10 years now!"
"SonShine Roofing provided outstanding service for installing a new roof on our home. Our neighbor used SonShine for their new roof and recommended SonShine to us. Because of their experience we included SonShine as one of the companies providing estimates for a new roof on our home. We were impressed with their professionalism and approach. They provided a very competitive estimate for the work. We selected SonShine for our roof and are pleased with the results and follow up. I highly recommend SonShine."
"We had SonShine Roofing work on our roof replacement in 2011. They provided an estimate on timely basis and the work schedule provided worked. It was a very big job and completed in a timely manner. The staff and owners conducted themselves in a professional manner and follow up work was completed timely. We were very much satisfied. Since 2011, they have provided yearly follow up and inspection work which is required to keep the warrant intact."
Are you ready to talk to a Roofing Consultant?
Give us a call at the number below, or complete the form and we'll get back with you as quickly as we can. We're always happy to talk through your needs over the phone, and then schedule a time for one of our technicians to visit your home and take a closer look.
Make sure you ask us how we can double your roof's useful service life (saving you more money in the long-run)!